Your framer in Amsterdam
Dear customer,
We are closed because of the May Holiday.
Back on the 6th of May!




Because of the corona virus, we have different opening times.
Tuesday, till Saturday from 10.00 - 14.00
We also have a 2 customers maximum in our store and have customized our store to be as save as possible.

We are sorry for any inconvinience.



Located on the Ceintuurbaan in Amsterdam, you will find our frameshop.

With our professional help, we can help you find the right frame for your, etching, canvas, photo, etc.
Your input and wishes are always leading in helping to find the frame suited for your work. We have a large collection
of frames in a various price range.
From simple aluminum frames, to the top range Garcia, at Quick Lijsten you're at the right adress.

We are looking forward meeting you!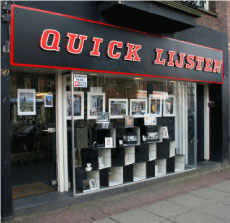 Opening hours:

+31(0)20-6795540